A domain name is more than a web address. It is your business and your overall online identity. That's why your domain name must be you. Make it recognizable, easy to remember, and a proud representation of you and your brand.
Examples of great domain names are Amazon.com, Change.org, Bestbuy.com, and Nerdwallet.com.
Table of contents
What is a domain name?
A domain name is how your website will be known online, no matter what type of website you'll have. It is the unique address of your site on the internet and it will be yours as long as you continue paying the annual fee ($10 – $15 for the .com domain).
Users who know your domain technically referred to as a URL (uniform resource locator) can simply type it in their browser's address bar, and be taken there. Others will be able to discover your blog through search engines such as Google and Bing.
Domain name structure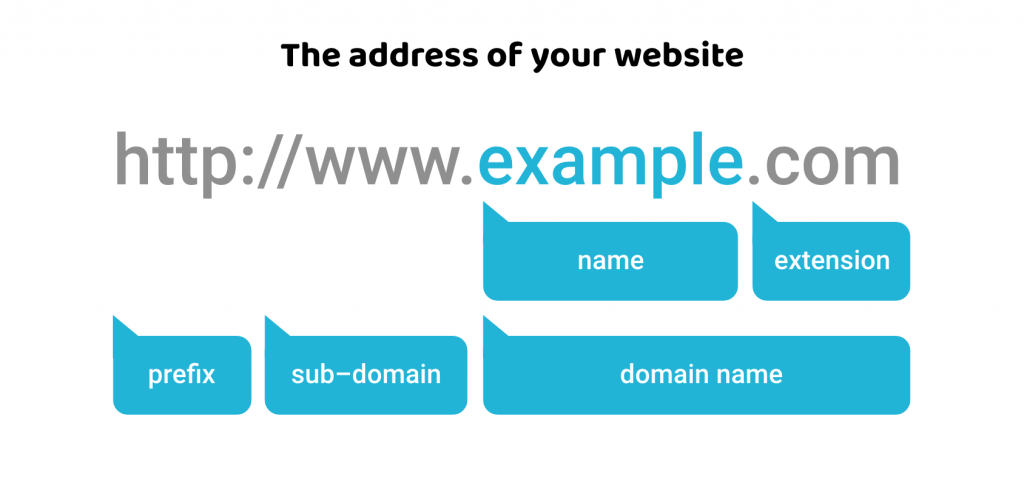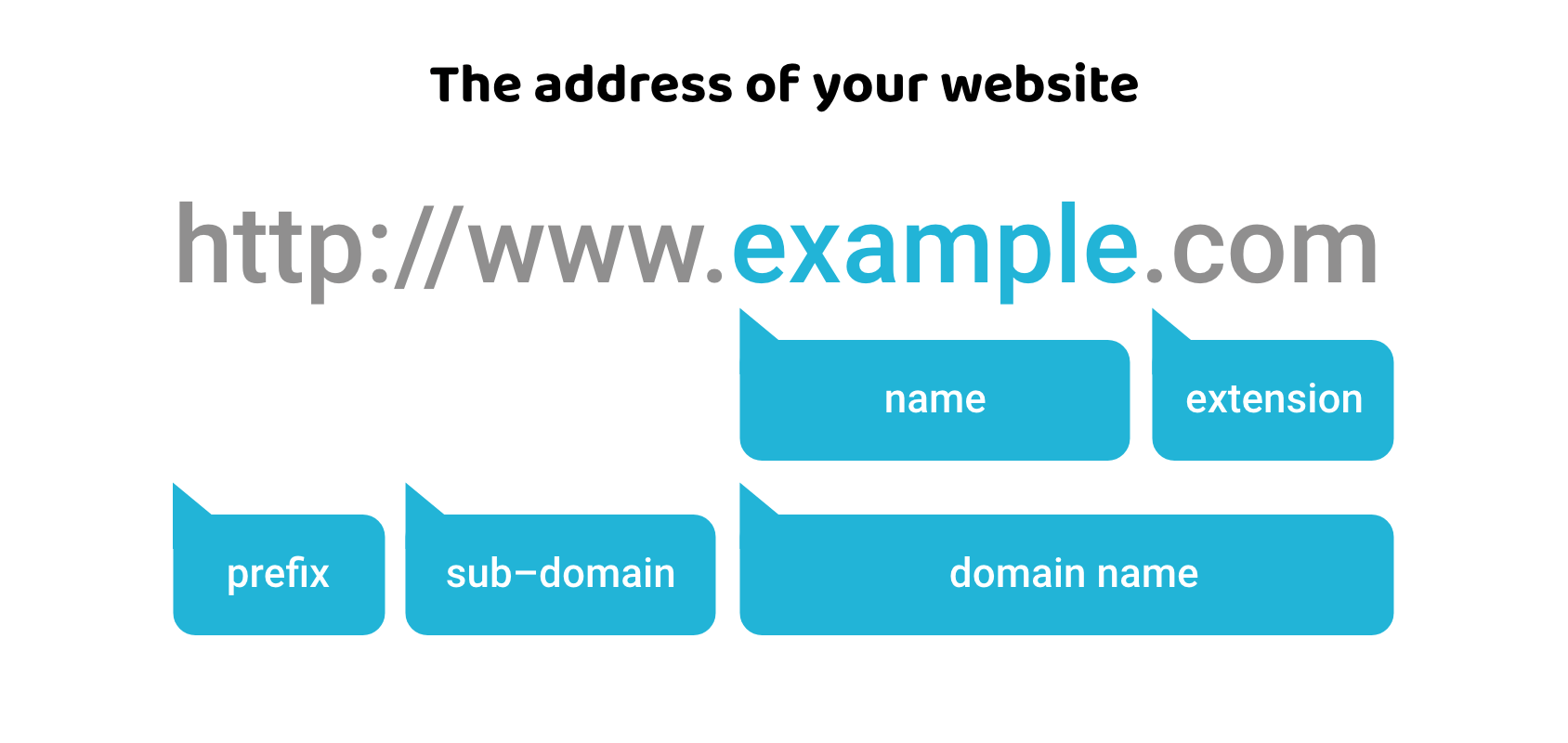 Prefix – an internet application protocol of your domain (HTTP: – standard, HTTPS: – secured).
Subdomain – the third level domain of your website name (some sites use "www" some not).
Name – the second-level domain of the website, picked by the person registering the domain.
Extension – the top-level domain can be picked for the variety of available choices.
There are ways to create a blog that allows you to bypass having your own domain and instead go with – yourname.someplatform.com. For example, Blogger offers a hosted version of its service where you can be yourname.blogspot.com. With this option, you're being controlled by the blogging platform you are on, which isn't the best option.
Owning your domain name is an important part of your online business success. In an ideal world, you will own sites associated with your brand before it has strong public recognition. This reduces the risk that someone else will buy the name, forcing you to purchase it for a great deal more than a few dollars. If your brand is well established, you may need to be a little more creative in coming up with an alternative domain name, if the obvious choices aren't available.
Domain name extension
When you choose a domain name, one of your choices will be what domain extension or Top Level Domain (TLD) extension to use. There are hundreds of top-level domains from which to choose. Here is the breakdown of the most popular ones.
The original top level domains (TLDs) include: .com, .net, .org, .int, .gov, .edu, and .mil. Only some of them are available for general use, and .com is far and away the most important.
Many country code top level domains (ccTLDs) exist, including: .au (Australia), .cn (China), .in (India), .jp (Japan), .ph (Philippines), and .uk (United Kingdom).
There are also topic specific generic top level domains (gTLDs), though their use has yet to catch on widely, including: .accountants, .agency, .business, .city, .digital, .photography, and .social.
Not sure what to choose for a top-level domain?
11 tips for choosing the best domain name
Here are some tips and tricks that I use for picking and buying domain names when I'm searching for the best available options.
1. Choose a unique name
If you are marketing yourself, ideally you'll be able to use your first and last names (johnsmith.com or janesmith.com). Even if you aren't marketing yourself, it's not a bad idea to register your name as a domain now, in case you want to use it in the future. If you are marketing your business, you should see if your business name (yourbusiness.com) is available.
Using a search engine like Google, search for your proposed blog or website name. Does your search show any sites with similar domain names? If it does, try a different name. Giving your website a name that's similar to other existing sites is the first step to failure. Also, don't choose names that are plural or misspelled versions of existing sites.
2. Brainstorm
Pick at least five words or phrases that describe the key topic of your website. Write them down, then mix and match the words to create possible domain names. Choose one that sounds good and will be memorable.
There's a rule in advertising that says when launching a new product, you need to start by making a list of ten names. The first three are easy. Maybe you can do five or six without breaking a sweat, but by the time you get to the last one, you'll be stuck for more ideas. Using the outline described above, choose the best one from your list and you are on your way. Don't be afraid to ask some friends what they like. That's the best way to help choose your domain name!
3. Make it easy to type
If you have to spell out your domain name more than once for it to be understood, then it won't work. Keep the name simple to remember and easy to enter in an address bar or search field.
Why is simplicity important? Because you don't want your future visitors to incorrectly type in your name and be directed to a different site. A classic example is the popular social media site, Flickr.com, introduced in 2005. Four years later, the company had to acquire Flicker.com for a large sum of money in order to redirect the many visitors who misspelled their name. If you're determined to have that oddly spelled name, make sure common misspellings are also available so you can register them and redirect visitors to the main domain.
4. Choose ".com" first
Up to 75% of all websites are ".com" domains. It is still the preferred extension and the easiest to remember. If your number one name choice isn't available, then try your second choice before accepting other TLDs. Remember that some browsers accept address-only entries in their address bar. If you type just the domain name (and who knows how many of your users will just do that?) they will return, by default, to the ".com" site.
5. Make it brandable
Your domain name will be your brand. Some names speak for themselves. When you hear the name, you know what the website is about. Take a look at 50+ examples of blogs, and you'll see that most popular websites have brandable names.
6. Shorter is always better
As we've been saying, shorter is better. If you can't get your domain name down to one memorable word (almost impossible to come by these days), then consider adding one or a maximum of two more words. Combinations of two words work great for memorable names like LifeHacker.com or GeekSquad.com. Also, don't use an acronym. People will never remember the letters unless it's a highly catchy name.
7. Avoid trademark problems
Once you've decided on your top choices for your site name, make sure you are not violating anyone's trademarks. To check within the US, visit uspto.gov/trademarks and do the search before you register the name. It is always good to check now because this could kill a great website and business down the road. Also, if you are going to include some big name products, such as Twitter or Facebook, review their terms and conditions. Most will not allow you to use their name in any part of your domain.
Protect your name with LegalZoom
8. No numbers or hyphens
Numbers and hyphens (especially hyphens) cause confusion. Stay away from them at all costs. Even something as clever as the number1website.com will cause confusion. Make the name speak for itself.
9. Beware of trends
Anything that deals with something trendy will, like the trend, fade away. Stick with a classic name that will span the generations and not be tied down to a trend or fad. Deciding whether something is a trend or here to stay, is a matter of personal judgment, but it's usually not too hard to tell.
10. Marry your domain name
It sounds odd, but you have to be absolutely sure you love your domain name. Once it's set, you have it for years to come. If you decide later to rename it, then you will lose time, money, branding, and rankings. We do not recommend changing your domain once your blog has been alive for a considerable amount of time.
11. Check social networks
Before you register your desired domain name, it's always a good idea to check social networks for the same name. To keep your site name constant and to build your brand, you want a name that is readily available. For example: check facebook.com/yourdomain, twitter.com/yourdomain – and secure them as well. KnowEm is a great tool to use to see if certain names are already branded on social platforms.
Make sure your name doesn't accidentally spell out anything embarrassing when the words are smushed together. For example, if you wanted to make a blog all about things you and your girlfriends say, Girls Talking is a short memorable name that fits most of our advice here very well. However, you probably don't want to rush out and buy girlstalking.com, right?
Infographic
Best domain names infographic
Choosing your domain name is a major decision. Take time to consider it carefully.
Checking domain availability
There are several tools you can use to check for an available domain name. A tool like the one we suggest below will allow you to check your domain name's availability with most of the common and some of the new top-level domains.
If your desired domain is available, you can proceed to purchase it. If not, don't panic! You have a couple of options and we will describe them below in the Premium Domains section.
Recommended domain search tool:
For beginners, I usually recommend trying Bluehost hosting provider, a company that powers over 2 million websites worldwide.
I was able to negotiate a special deal only for my visitors that includes:
Free domain name
Discount price of $2.75 per month
30-day money-back guarantee period
→ Click Here to Claim an Exclusive 65% Bluehost Discount Offer ←
Purchasing an available domain name
Once you've determined whether your domain is available, you will want to purchase it from a domain registrar or web hosting company. Some web hosts will register a domain name for you for free (usually for one year) when you buy a web hosting service from them, while others will do it for you, but you'll have to cover the registrar fees (an annual fee of $10 – $15 for the ".com" domain).
It's a personal preference whether to register the name directly, with a domain name registrar, or with the web host. In any case, you want to make sure you are assigned as the owner, the administrative, and the technical contacts for the domain name you purchased. If you are buying multiple domains, it might be easier to use one good registrar. But, if you are buying a domain name and planning to make a website or use it for custom email purposes, it will be easier to go with the hosting company (hosting account) and keep everything under one roof.
One thing's for sure. You have to find a reliable company to buy your domain with. There are hundreds of companies available and we will recommend you the best ones from our experience, both registrars, and hosts.
If you decide to pick a company on your own, here are some things to consider when choosing one.
ICANN-Accreditation
Your domain registrar should be accredited by ICANN, a non-profit organization existing to define how the domain name system functions and expands. They coordinate unique identifiers across the world to ensure the web is truly worldwide.
When choosing your domain registrar, you will want to check out the price and top-level domain availability (everyone does .com, but not everyone does specific country top-level domains and the new topic-specific top-level domains).
Here are recommended domain registrar and web hosting service:
Keeping your domain name and hosting account separate will involve extra operations, such as pointing DNS records from your domain registrar to the hosting company before launching and making your new website. This is not a complicated task and most registrar companies have a step-by-step description of that process.
Premium domain names
If you are trying to get a cool short domain name, chances are high that this name will be taken. Don't give up too soon, though, many of these domains are up for sale and waiting for their new owners. If you are ready to spend extra dollars, spend time doing research, and negotiate with the seller.
The tricky part about purchasing domains is that you cannot really estimate the value (as you can with cars, phones, computers, etc.) for your negotiations. Salesforce.com paid $4.5 million for the domain name Data.com. Folks from WebFlow were able to buy the webflow.com domain for around $3,000. Recently we've helped our friends to find the domain name BoldGrid.com for the regular price of $15.
Each case is different, but, if you're willing to spend some time and money, you could get the domain name you want rather cheaply. We've detailed the process below.
Is it for sale?
You may find that your intended domain name is reserved but available for sale at a premium price. Don't just settle on the asking price for a premium domain. See if you can contact the seller or service to negotiate a lower price. This tactic is especially effective if the domain has been on sale for a long time.
Your intended domain name may be reserved but available through an auction, such as Godaddy Auction, Sedo, or NameJet. You'll need to find the desired name and monitor the auction to ensure you get the best price and beat any competing bidders.
Another possibility is that your intended domain name is reserved, but not in use, not publicly listed for sale, and not up for auction. If this is the case, try contacting the domain owner to see if they're willing to sell it. See if the contact details are listed on the site. If not, you can try to find it by looking up the domain owner's information using a Whois search. In 40 to 50 percent of cases, you'll find the domain owner information there.
If you're not comfortable doing this yourself, you can use a broker to buy a domain for you. Some brokers have established relationships with major domain investors. But remember, a broker will charge a commission rate of 10 to 15 percent of the total sale price.
Research the seller and domain
Does the seller have a documented history of previous sales? Does he have a blog or social media profiles that could give you insight to his standing, views, and opinions? What is his favorite breakfast cereal? Every tidbit of information you can gather on the seller could help you in negotiations.
Before you purchase an already used domain, you will want to see what has been published on that domain in the past to ensure it has a good reputation. You don't want to purchase a domain that has hosted adult content or has a bad backlink history that you may have to clean up. Use Archive.org to see what content has been on a website in the past and use Semrush to check backlinks. If something looks suspicious don't buy it.
Your new domain is going to be your branded business name. You need to ensure that future social media profiles are available. Use Knowem.com to quickly check profile availability for your new brand and instantly reserve handles from services like Twitter, Facebook, Instagram, Pinterest, and others. It's probably not a good idea to buy a brandable domain if its corresponding social profiles are already taken.
Closing the deal
Be patient when buying a premium domain, the process is completely different from simple domain registration. Rarely will you immediately reach a mutually agreed upon price. Sometimes waiting on a deal for a few weeks and checking with the owner later will result in success at a better price.
If the price is too high, try to work with the owner to agree on a "lease-to-own" or "partial payments" deal for the domain name. This way you won't need to pay a big chunk of money up front.
If the owner has agreed to sell the domain, try to get the agreement in writing if possible. Or better, draft and sign a purchase agreement with the buyer. This will legally dictate the terms of the purchase and protect both parties. Next step, you'll have to make the payment. Don't just wire money to the buyer once you have reached an agreement. You need a secure transaction to protect you from any fraudulent activities. Use a secure service such as Escrow.com to close the deal.
You've got a lot to think about right now, so there's a final piece of advice you should follow: Don't rush it. But don't procrastinate too long, either.
Conclusion
And, finally, don't stress out. These are all tips to make your experience a little easier and avoid potential problems. Keep in mind that it's all about you and your brand. If you look around, you'll find successful sites that have broken almost every one of the rules we've laid out in this guide. (Although no one site has broken all of them, as far as we know.) Google would still be a giant if they'd called it Zugzut.com or Goohoo.com. Good branding makes things easier, but it's still up to you to build it.
It may be a lot of work, but it's a lot of fun, too. The First Site Guide team would like to wish you good luck! If you need help with your choice just contact us.